"It's a global economy and EVERYONE needs to participate.  
Diversity in 'thought' is the key that turns on innovation" ... Sharyn
"NISSAN ended up with a 78% attrition wipeout. This may be why Morton left Nissan shortly after the move."… A viewer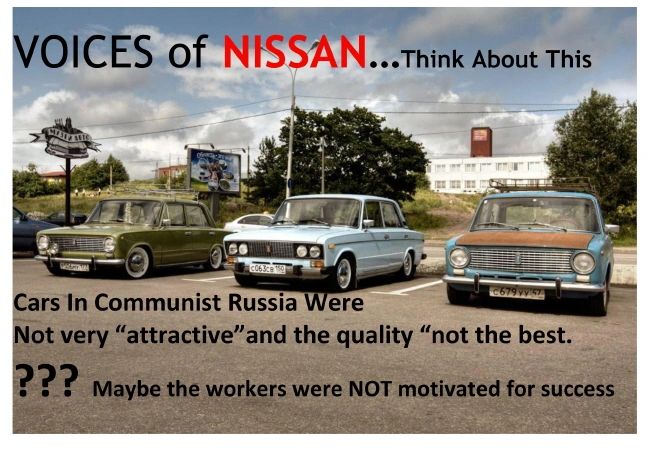 During the communist era people that worked hard could NOT dream of individual success for the "government" dictated a persons destiny.   
The "New" road at NISSAN must let employees "map out" their path to success.  Good performance needs to be knowledged. "inclusive" team building must be the "new norm".   A company cannot succeed if HR only hires those that are "quiet closed minded followers" for their ideas are stale.   Transparency in decision making needs to be "consistant".   Bottom Line:
VOICES of NISSAN
Below are comments from viewer's human beings that care (d) about NISSAN; some words were changed to protect the identity of the viewer. The "first" thought has been expressed by several different viewers & I'm not the only one WRONGED by a Good Ole Boy network that was led by Jim Morton.  Bottom line Carlos Ghosn put him in charge and he's responsible.  Ghosn MUST Go!!!
I've learned so much from those workers that participated in the NRP and to them I say "thank you".   Many have told me that Carlos Ghosn did "save" the company and they admired him, back then.  Some were suspicious of Jim Morton wanting to move NISSAN (like Michelin) still they were reassured that would NOT happen. One person in hindsight commented that in 2002 when a much needed expansion for a garage in Gardena was denied and when Ghosn made a comment that NISSAN had "no shrine" they should have known that Morton was "looking elsewhere" still they "trusted the words of their managers and they scarificed large parts of their lives to make NISSAN profitable. 
Morton would say that "no decision had been made" yet executive assistants  blocked out conference rooms for "relocaiton" purposes. 
"The other thing is that it became clear the Nissan was trying to trap As many California employees as possible into HAVING to move by not  Planning on telling us about their plans until we had returned from The Christmas/New Year's holiday in January, 2006. When the rumor broke  In the LA Times (in August, 2005, I believe) someone on my floor had  The presence of mind to check the calendar for all the large  Conference rooms on campus. And wouldn't you know, they were ALL   booked for the same time the morning of that first Monday back from  The holiday. He printed the notices, blocked-out his name and made  Photocopies, which found their way all over campus"….A Viewer and NOT the only person with this opinion.

Those "aligned" with the Good Ole Boys got their "real estate" early thus they got the "economic edge" in Tennessee. This was NOT fair, when I mentioned people buying real estate before the "offical" announcement on my Letter to the ACLU page I was "arrested" about a week later.  

??? coincidence.
FYI- NISSAN lost a "lot" of the product planning during the move to TN and it was mentioned to me that many were angry at managements lack of gratitude to those that did the "hard labor" during the NRP.   Except for Larry Dominiqes group most in product planning left.
The poor handling Morton made with the announcement led to employees losing their  loyalty to NISSAN and "months ago" I learned that some spent their last few months at NISSAN putting "funny" car possiblities in folders.  Never did they "think" that a new employee would  use those "thoughts".  Guess some people in Detroit and California are "laughing" now.  

???  M Coupe….Topless Murano…The LEAF styling, can't blame the "juke" on the relo that car came out of Europe.   Bottom Line:   The "newbies at NISSAN" in product planning made some mistakes.
I learned Infiniti lost 80% of product planning one person said 90%.
Many told me of a VERY talented guy responsible for the G that trotted off to Toyota.  That man was full of "fresh" ideas and people say that SCION is the winner of the NISSAN 2009 Internal Battle of Control.  
Valuable "intellectual property" was lost and it seemed that Tokyo did NOT care:
"Of the 1400 NNA employees at the Gardena HQ, only 305 chose to move. Not the 800 or 900 figure you hear. THOSE figures were inflated by counting a number of IT people who were hired to replace CONTRACT staff who were leaving. They ended  the contract assignments, hired several hundred IT people as TENNESSEE employees, but had them work in California for a few months so they could coordinate
a smooth hand-off of IT functions."…… a viewer 

Many women in management were going to make the move but did "not" it's coming out NOW why.  A company does not have a drop from 21% to 10% of female leadership with out a systemic problem. 

"The bottom line: They only wanted to give us 2.5 months to find new jobs or be FORCED into moving." ……..  A viewer.

Below is the "thought" on my front page.  This is making people in the community "talk". 

They're DISGUSTED!!!!


Nissan DID knowingly move a number of employees to 
Tennessee with the knowledge that they would be fired within a year.
"In a series of planning meetings in which decisions of outsourcing various functions were made the company decided that India would take over much of the call center volume would not be ready until some 8-10 months after the move to Tennessee was completed and it was brought to the attention of Jim Morton (Mr. Ghosn's right hand-man) that Nissan would be moving some 60-70 employees, and then firing them when the Indian company came on-line. People pointed out to Morton that it was morally and ethically wrong to move people 1800 miles from their homes, only to fire them within a year. Morton's response to comments "we can't afford the disruption to our business."…. a viewer 
 
"The sleazy, corrupt executives that worked out this move for personal reasons could never understand what they destroyed and what they
delivered to their competitors." …  A viewer  
NISSAN Time for Change
Have A Great Day!!!!    Sharyn
Love Cars~Love People~Love