The Girl In The Black Honda

My Battle For Human Decency at NISSAN, in Tennessee and for America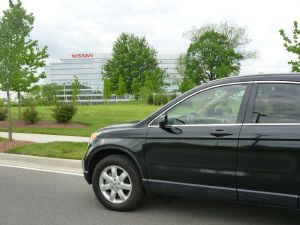 Sharyn Bovat said from DAY 1 this website will come down when NISSAN Carlos Tavares tells me to take it down:

It's been clear on this website that after I knew Mr. Tavares had the CEO Job(last spring) I wrote that I wanted to do CSR or I wanted to "settle".  

In the beginning Sharyn Bovat told

Carlos 

Tavares that she'd be a "change" agent 


This picture was taken a LONG time ago.  Rob don't go issuing "new" warrants.     Thanks!!!! 

Message from Sharyn: 


In March, April and May 2009 HR had made my life miserable for I had told Mr. Tavares about problems at Nissan North America.  I had told him about a Good Ole Boy network that dominated HR. 

In late spring 2009 I realized  could not get a job (with anyone) with NISSAN HR not assisting me with references and I'd been slandered by executives who feared my knowledge about their bad spending.  Williamson County & the Nashville economic zone is a very "close knit" community. 

On my 44th birthday, June 4th 2009 I was inspired by the words of Gandhi "Be the Change You Want to See In the World" & I started www.girlintheblackhonda.com  It was my way of communicating a problem that needed to be addressed. 

FYI- In late May I was told by an "insider" that Mr. Tavares wanted to fire HR but was not allowed to by those from Ghosn's office.   I did the website for it could be seen in Japan and France then I sent the link to past clients and like an airplane "it flew".
Since the summer of 2009  I knew my website was slowly uncovering problems at NISSAN.   The website was initially started because I wanted to "quickly" expose problems, hand over a list of unethical behavior & MOVE ON with my life.
In that email OVER a year ago I gave Mr. Tavares my monthly rate and told him that I could be paid when "change" happened I DID NOT think it would take 17 months.  Mr. Tavares accepted a LOT of emails from me and many of my "thoughts" to him were implemented.  I've known that this website is a "tool for change".
I've heard from numerous former NISSAN employee's from LA who appreciate the fact that "their voices" have finally been heard by Tokyo.  

People that worked at "high" levels of NISSAN communicated with me because I HAVE CREDIBILITY. 
I promised they would remain confidential and I've done that.
http://www.nissanwhistleblower.com/Voices_from_NISSAN.html
For OVER 6 months I've had on this website that if I'm not getting the CSR job I want to "settle".   I even had an email about things proceeding from Mr. Tavares.   I then found out Mr. Tavares would be Mr. Ghosn's successor.  Because of my political work for those associated with former President Ronald Reagan I knew that change takes time (walls don't fall over night) & that is why I'm so patient. 
That said:  I've been to jail 3 times.  The Good Ole Boy problem at NISSAN is NOT just at NISSAN and it's infested the middle Tennessee community & beyond.   Viewers of my blog/website gave me "lots" of tips about problems with Mr. Morton and Mississippi.      
Williamson County, this is NOT your battle. NOW I've been jailed and humiliated.  For the rest of MY life I will have those "made up" allegations that the Good Ole Boys drafted haunting me.
What happened is morally WRONG!!!   I will keep fighting.  I will WIN…Trust Me.
I do NOT want to fight "city hall" or the Tennessee justice system (which does need some tweaks), simply I want to move on with my life.  When I say "relocate me" I'm sincere.  Ironically I was considered one of the top relocation consultant in middle Tennessee.      
Watching people is "my thing" & I told you I was a "social scientist".
Nissan there's are reason WHY people years ago wanted my "thoughts' and they gave me the gift of great adventures and I met a lot of powerful people.   Many of those experiences make me who I am today and that's a person whose "feet are on the ground" and capable of making decisions.  Granted my presentation skills are a bit "different"   :) :)    NISSAN I really think my "thoughts" & words can help with your "happy blue car".      
My longtime viewers have recognized that the ELLURE concept being showcased at the LA Auto show was inspired by Sharyn Bovat.   Please read ALL my thoughts on cars.  YES!!!!  There were lots of them.   Many more were sent to Mr. Tavares.
???  WHY

Answer:  I believe in my heart Mr. Tavares will make good change at NISSAN. Also, I believe in my heart that he Respects ALL People.

When Girl in the Black Honda started I told him I'm a big believer in loyalty and I trust he would do what is right in reference to me.    

Whether I get the job I want at NISSAN  or they just give me what was promised and settle with me (fairly) in reference to "my great thoughts" that were implemented, that's OK.

I respect Mr. Tavares tremendously and today I'm simply asking NISSAN for change, I'm tired of being a whistleblower & fighting charges in court that will eventually be dropped.  It's time to give me:  

 The Keys Back to  My Life.  

I want to work and enjoy my life.  
Have A Great Day!!!         Sharyn Bovat    615-415-6675
Love Cars~Love People~Love the Planet
Marketing Mistake
Yes!!! Innovation is a good word …   BUT    
Nissan before YOU spend all that money on you "new" image.
THINK ABOUT THIS:  Many hardworking Americans associate the word Innovation with OUTSOURCING. It's buried in the subconscious, but it's there.  
TRUST ME!!!
About 328,000 results (0.29 seconds) 
First came manufacturing. Now companies are farming out R&D to cut costs and get new products to market faster. Are they going too far?
www.businessweek.com/magazine/content/.../b3925601.htm - Cached - Similar
BusinessWeek Online: BW Magazine
Outsourcing Innovation First came manufacturing. Now companies are farming ...
www.businessweek.com/magazine/content/.../b3925001_mz001.htm - Cached
Show more results from businessweek.com
Outsourcing Innovation? - Forbes.com
China may provide some answers. Globalization can't hurt.
www.forbes.com › News & Analysis - Cached - Similar
Outsourcing Innovation - WSJ.com
Nov 30, 2009 ... So, how can businesses strike the right balance between outsourcing innovation and making efforts in-house?
online.wsj.com/.../SB10001424052970204488304574426521384198990.html - Cached - Similar - Add to iGoogle
Innovate on Purpose: Outsourcing Innovation
Jun 1, 2010 ... Outsourcing innovation is just the start of the debate! Very topical at the mo. Thought you might like this innovation video developed to ...
innovateonpurpose.blogspot.com/2010/.../outsourcing-innovation.html - Cached
Outsourcing Innovation: The New Engine of Growth - The Magazine ...
The answer: by outsourcing innovation. Today innovation calls for the complex knowledge that only a broad network of specialists can offer. ...
sloanreview.mit.edu/.../outsourcing-innovation-the-new-engine-of-growth/ - Cached - Similar
Outsourcing's Innovation Crisis | CIO - Blogs and Discussion
Sep 7, 2007 ... It's a common scenario: the IT service provider meets all its SLAs and holds to all the pricing models... but the customer still isn't ...
advice.cio.com/stephanie.../outsourcings_innovation_crisis_0 - Cached - Similar
More Companies Outsourcing Innovation | Blogs | ITBusinessEdge.com
Mar 28, 2007 ... While it's not uncommon for companies to outsource routine business tasks, they have been less inclined to outsource activities that involve ...
www.itbusinessedge.com/.../more-companies-outsourcing-innovation/?... - Cached - Similar
Outsourcing Innovation. For 10 years I've been working with a company that collaborates with technology firms to help design and develop new groundbreaking ...
outsourcinginnovation.blogspot.com/ - Cached - Similar
IdeaConnection: Outsourcing Innovation, Open Innovation
IdeaConnection: Outsourcing and Open Innovation: companies to help you innovate and solve problems.
www.ideaconnection.com/outsourcing/ - Cached - Similar