Welcome
University of Michigan:) :)

My stats show that Detroit LOVES the word EWANICK.... So I think when I "Launch" my BLUE State LOVE the
Planet Comedy tour I'll start in AUTO City  A place that  LOVES to talk about cars.& I guess from my #'s viewers love Ewanick. 

Mr. Brancheau soon YOU too can have Ewanick status...  Sir, if you can make the LEAF a blockbuster YOU'RE going to become a marketing legend. 

???   Did you see the picture of the one circling my childs home......    That was "bizarre".

Mr. Ewanick I'll leave YOU some tickets in WILL CALL.   We can "talk during the show about all the "hours" we spent at NISSAN ??? did HR call you into 4 meetings and offer you money to be silent. ???  Do YOU need a "skirt" that speaks.   I'm a "red blooded" American Woman.... Not ONLY am I talented GM/ You'd be helping a "red state refugee" too. 

Sir, think of hiring me as a humanitarian program &  I think the governor in Tennessee  might "pay" to relocate me OUT of Tennessee...Evidently I'm not good for TN recruiting businesses.  I used to be considered one of the states best relocation consultants until I became a whistleblower and "ratted" out the Good Ole Boys and the corruption in this culture.   I'd really like to work in CSR.   Call me  615-415-6675.  

If NISSAN does not end this soon & If I can't go back to work I'll have to support myself with the comedy.

Luckily NISSAN has inspired many with raw comedic material just by reviews of the the "line up" .   Look at What I saw today....  It's even better than the article yesterday that compared the "new" QX to a lobster.... Ugly on the outside yet delicious inside.....     MR. Tavares, I hope your doing the Infiniti Van...  The QX is truly a "boy toy".  After the initial "wow it looks different crowd" does their purchases it's gonna do a "cube" and sales will be soft.  That a BIG SUV so "flooring" is gonna be expensive.  ouch!!!!


If a University of Michigan grad student would like to do a "thesis" on the Failure of Power political strategy being used at NISSAN during a corporate  "internal battle of control" and the economic effects of the aftermath please call me Sharyn Bovat 615-415-6675.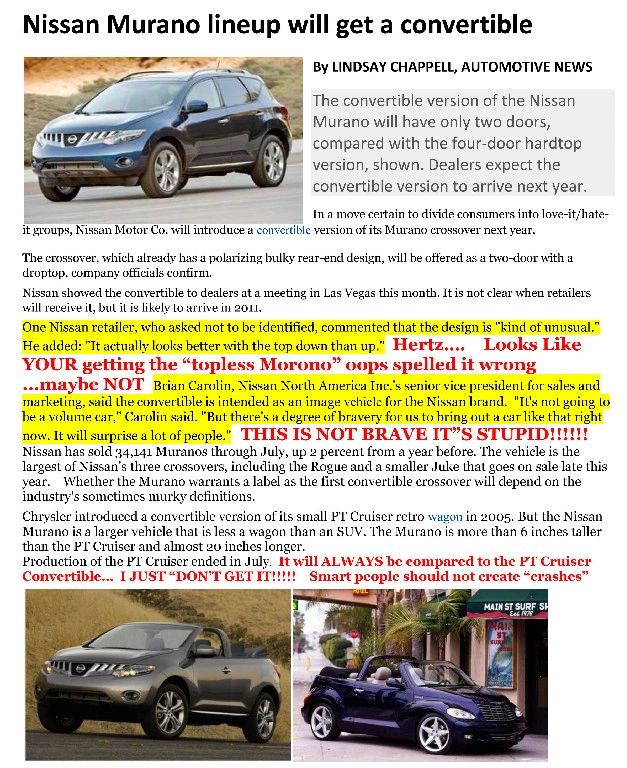 This is truly "tragic".....  NISSAN YOU could be MUCH more profitable if YOU made cars America would want to buy.



One Nissan retailer, who asked not to be identified, commented that the design is "kind of unusual." He added: "It actually looks better with the top down than up."   Hertz….    Looks Like  YOUR getting the "topless Morono" oops spelled it wrong ...maybe NOT    Nissan has sold 34,141 Muranos Brian Carolin, Nissan North America Inc.'s senior vice president for sales and marketing, said the convertible is intended as an image vehicle for the Nissan brand.  "It's not going to be a volume car," Carolin said. "But there's a degree of bravery for us to bring out a car like that right now. It will surprise a lot of people."   THIS IS NOT BRAVE IT"S STUPID!!!!!!



Have A Great Day!!!!            Sharyn
Love Cars~Love People~Love the Planet