In  February 2010 I told NISSAN accounting and Scott Beckers office that my 1099 was not done properly.  They could have "easily" refiled the form. I told them that Mr. Tavares did not have credit when he moved to America so I needed to cover a lot of the expenses and I was told I would be reimbursed .    The goal was for Mr. Tavares to have a "smooth" transition. 
Upfront I said I did not want the expenses as "taxable income" and I was assured that the expenses for Mr. Tavares would be not be ( clarified this because I was buying  included a satilite dish, home goods, comcast set up fees and I knew that would be a "red flag" to the IRS.)...   Then when the 1099 appeared I was SHOCKED Nissan included my reimbursements as taxable income.  
I've gone back and forth with the IRS and a certified letter came today.  
NISSAN needs to do an amended 1099 for 2009.

This is just MORE harassment from NISSAN... I do NOT want to have to hire a lawyer just to get a simple "correct" 1099.
I'm stressed.   NISSAN please contact me and assure me YOU'LL take care of this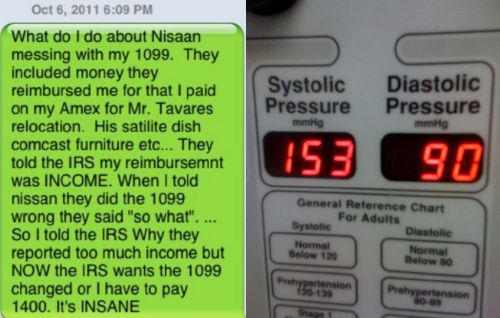 -----Original Message-----
From: Sharyn Bovat <sharynbovat@aol.com>
To: rpence <rpence@gannett.com>; chudler <chudler@tennessean.com>; Silverman, Mark <msilverm@gannett.com>
Cc: aclutn <aclutn@aclu-tn.org>
Sent: Thu, Oct 6, 2011 8:03 pm
Subject: Question for Gannett Elite
??? Is the Obama Admistration going to tell Kate Marymont @ Gannett to  
squash my obituary.

If I die of a heart attack I blame Nissan, corruption in the White  
House,
The Tennessee court system (for allowing harassment of a whistle  
blower), the mainstream media for ignoring a story (to promote a  
political agenda... ) Thus transapency does not happen and Nissan, the  
White House and the State can continue harassment that if continues  
will lead to my death.