???    Why do Emerging Markets want to "imitate" America?  
NISSAN It's ALL about HOLLYWOOD
Bring on the Bling….Big Time!!!!
Today's "thought" is For Marketing in  "Emerging" Markets and this connects to CSR
CSR Philosophy 2010  
More Cars Sold = More Profits = More NISSAN Jobs Created
=
More money to enrich the lives of People and the Planet
Strategy for "BRIC" SUCCESS:
The NISSAN/Infiniti Dealerships partner with upscale "boutiques" frequented by the "elite" in that region and have "twice yearly" Fashion Shows at the Dealership for 3 years.  The boutiques have a win for they show their fashions and the dealership wins for their showroom is the backdrop and "emotionally" the customer will associate the product with SUCCESS.   Getting the boutique to help with the invitation list ensures you'll get the "right" demographic for the event.   Infiniti in Paris you've "entertained the debutants so basically what I'm suggesting is that in the "BRIC" markets you make the customer feel like Debutants.
~VERY IMPORTANT~
 As children those in 2nd world/emerging markets used IMAGES from American movies/tv  and that's what "emotionally" drives them to succeed and consume.   
Russia~China~ Brazil~Thailand~India~and Many More……. Are occupied by people that grew up with dreams of becoming successful VERY important in previous generations in their culture it was "JUST" a Dream.   NOW with "Globalization" Success can be and too many "is" their reality.  
The KEY is linking their new reality with NISSAN/Infiniti to Status Symbol of Success
Added "thought" Some countries in "western" European countries and economically developed/advanced parts of Asia think American as consumers are TOO self absorbed, they cannot understand that we as a society are emotionally needy of "attractive" cars to help with our individual sense of self esteem.  They see cars as a "mode of transportation and don't see the connection…. Get It!!!    American women "eat up' the knock off Louis Vuittan purses because they LOVE the look of "luxury" the zippers (engines) might not work as well as the high priced brand but they don't care……

America is a MEDIA DRIVEN
society and since most people worldwide consider the BEST media/entertainment comes from the USA…. We'll always be trend setters for the emerging markets.   
Generalizing "BRIC" markets find "americans attractive"

That includes our lifestyle........



BBC fans….Your stuff is more "intellectual" YES!!!  I agree in many ways its "superior programming.  FYI… I've been to Basingstoke a ½ dozen times and on my last visit I took my daughter to Lego land and there enjoyed Pimms while viewing a puppet show.   Truly I believe the UK "culture" is Fantastic.  Although I personally have "issues" waiting in line so much your "queues" are HORRIBLE.  ??? What's with the Marmite?  ???  Can someone answer, Please I just DON"T get it.
 My comments today are targeted about the "emotions" of the typical "emerging market consumer"….  Please take no offence to media manufactured in "other" nations.  My "thoughts are all about selling LOTS of those pricey cars and showing the planet "love".
This is my segway…..  J J
 NISSAN We're catering to the "NEW" Money…  "BRIC" women LOVE seeing pictures off celebrities at events..  Each month we'll "highlight" a global celebrity attending an event and ask the celebrity in "their words" to tell the worlds how they show the planet "love"...more soon.
Now I'm connecting the dots of the Emerging Marketing Team to Global CSR to Emerging Market Blue Citizenship representative.
Infiniti "Global" Marketing  and Infiniti USA Marketing teaming with Global CSR-corporate citizenship  should create a quarterly  female customer "driven"  newsletter  about Fashion & lifestyle  Trends and each one will  "highlight" a global charity and VERY IMPORTANT telling the consumer about NISSAN Blue Citizenship. 
This will be in English.  The Infiniti dealers in America can hand it to their female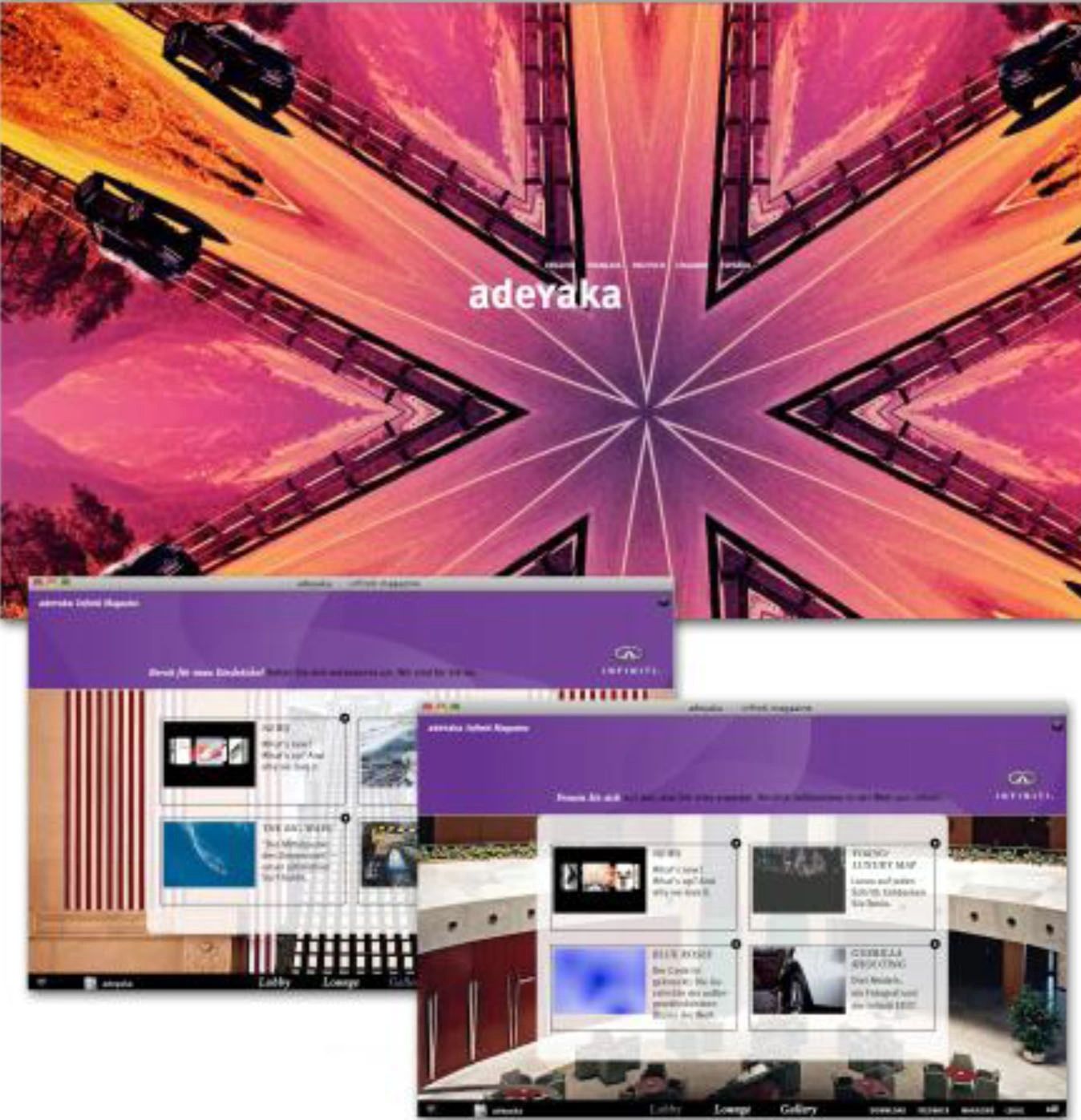 customers.  Let's think of it an a VERY small version of you beautiful Adeyaka magazine.  



Working with Global Marketing's Social Media Team member in multi lingual NYC... websites will be created exclusively for the "BRIC" countries in the following languages….   Russian~Portuguese (for Brazil)~Chinese~and Hindi We'll quickly and "cost effectively"   communicate the image that the American Dream can truly be theirs too while driving their luxury NISSAN/Infiniti.
Globally we'll show the world with "links" on websites that the Infiniti is the perfect fashion "accessory "for people all around the world.  Whether you're going to a Hollywood Movie Premier or enjoying a night out with that "special" friend.  Get it!!! 

I'm targeting women that:


Love Cars~Love Clothes~ Love Concierge Service



The goal is for them to buy:

 

Have A Great Day!!!!     
J J Sharyn


Love Cars~Love People~Love the Planet