The Texas State Board of Education, by its actions on Jan. 15, seems to want the state's school children to take several steps backward and return to a discredited past by deleting some of the people and groups who helped make social progress since the 1950s.

From a long list of proposed changes to the social studies curriculum — that will affect 4.7 million students in history, government, geography and economics — the Republican majority on the board disapproved covering the contributions of the late Sen. Edward Kennedy and Supreme Court Justice Sonia Sotomayor, or mention of the Hispanic civil-rights group the League of United Latin American Citizens, one with a longstanding history of successes in Texas.






Years ago I got a call and was asked if I wanted to meet Cesar Chavez.  I was so excited. The person that called me thought I would be, and truthfully I was probably unusual for most republicans.   
Mr. Chavez was a famous union activist for the Hispanic community.  YES!!!  I know business people don't like unions and that's one reason why Tennessee and Mississippi are great states to make cars in because the workers are cheaper due to the fact that they are right to work states. 
Back in the era of Mr. Chavez for the farm worker unions were needed.  Those people were treated "worse" than slaves living in shacks with no running water, their children denied education, and malnourished. Even in the 80"s when I visited a "ghetto" in the Salinas Valley that housed these workers it was still bad.    Yet those doing 12 hours of manual labor a day for less than minimum wage (I know how can it be less than minimum) came home each night to a HOBLE and did not complain.  My "thought" Prison facilities for criminals were much nicer. 
YES!!!  Basic Human Decency for the worker is what he fought for.
VERY IMPORTANT they were doing a job what NO American wanted to do and that's harvesting the crops at an affordable rate so our prices at the grocery store remained WAY below what they would be in Europe.
He made people from Mexico working in the fields of California feel proud.  He gave them hope.  He wanted respect for his people and insisted upon it. 
They gave him a Holiday:   
César Chávez Day
César Chávez's birthday, March 31, is celebrated in California as a state holiday, intended to promote service to the community in honor of Chávez's life and work. Many, but not all, state government offices, community colleges, and libraries are closed, except for K-12 schools. Texas also recognizes the day, and it is an optional holiday in Arizona and Colorado. Governor Arnold Schwarzenegger suspended observance of the holiday in 2004 and 2005 to save money during the aftermath of the power crisis.
Now the Right Wing Extreme Governor of the State of Texas is supporting the School Board in wanting to take Cesar Chavez out of the History Book. 
My "thought" No Wonder Radio Shack is leaving Texas.
Radio Shack… Our Schools in Williamson County are on track for success and the governor is doing his best to make education better in the state.   My hope is "respect for all people" will be the norm in this society.   Why don't you forget the Manatee and think about Tennessee?  
Also, President Obama the "thought" of firing Texas.  Do it!!!   Create the Friendly "49".  Try to figure out how we can keep Houston, Austin and San Antonio.    Dallas is DONE/toast.    ??? Why.  The Tea Party is funded by those same "connected" Good Ole Boys from Texas.
I never did get to meet Mr. Chavez.  Just hours before the dinner one of his staff members saw ½ of a grape on each of the fruit tarts that the hotel banquet pastry chef put on the desserts.  Mr. Chavez was not happy about  "the grape"  & backed out at the last minute.   He could have had a nice speaker's fee.  That man was true to character.  To me he's a hero.  
It's said that Texas wants to ban him from books as a way to keep him from being a role model to young Hispanic children.  Sadly, I can actually see that being the reason. 

??? Why am I writing about this.

It's the HIDDEN AMERICA we don't want the world to see.   This racism is destroying our country.
If the NISSAN Good Ole Boys succeeded in eliminating the women and Californians who would have been next????

Good Ole Boys in Texas let the children have someone to look up to. 

It's Important!!!! 


Have A Great Day!!!     Sharyn
Love Cars~Love People~Love the  Planet 
Texas Conservatives Closer To Banning Cesar Chavez From School Textbooks
Cesar Chavez with Bobby Kennedy
What would happen if there was a debate in your state where the school board told you they were removing Abraham Lincoln from their textbooks? No excuse would even come close to advocating for such a thing, after all Lincoln was a key figure in American history — declaring the Emancipation Proclamation, which helped put an end to slavery. It was a heroic act during a time when white Southerners had so much influence and blacks had few advocates. It's a lesson about doing the right thing, about standing up for others who are oppressed. It's what we want our children to learn. But, in the state of Texas that lesson is what they are trying to erase — not about Lincoln, but about Cesar Chavez.
A debate takes place in Texas every 10 years — the new curriculum that will be taught in the public schools and the historical figures that will make it into the textbooks. This time around such debate has sparked anger from Latin-American groups who are fighting to keep Cesar Chavez in the social studies textbooks before a preliminary school board vote on January 13.
Cesar Chavez as you may already know is the most notable Latino figure of the 20th Century. What Martin Luther King Jr. is to the African American community, Chavez is to Latinos. His work not only led to major labor reforms for farm workers and their families in California, but he also empowered a whole new generation of people to stand up for their rights and challenge the status quo in a peaceful and strategic manner.
Nevertheless, advisers to the Texas Board of Education have come to question the historical value of teaching children in Texas about Chavez' life. Their verdict without a trial has cast Chavez as inconsequential to American history despite the fact that his legacy can strongly resonate with children in Texas who happen to be mostly Latino.
The United Farm Workers of America — the union that Chavez and Dolores Huerta helped found in 1962 — is leading the fight to stop the Texas School Board from banning Chavez. According to UFWA, Gail Lowe, the chair of the board who happens to be an outspoken creationist, has said that: (Cesar Chavez) "lacks the stature…and contributions" and should not "be held up to our children as someone worthy of emulation."

But Chavez is not the only historical figure possibly being banned from Texas textbooks, the UFWA is informing its members that Lowe is also attempting to remove Irma Rangel, the first Hispanic woman elected to the state Legislature.
So what's the excuse that the Texas Board of Education is coming up with to justify such actions? The UFWA says that board members and their appointees have complained about an "over representation of minorities" in the current social studies standards. You see, two Latino historical figures are just too many.
Governor Rick Perry is standing by Lowe on this one, after all he appointed her. Republicans don't see it in their best interest to teach children about civil rights figures who could inspire black or brown people. The tactics used by Chavez like fasting and civil disobedience, which were taught by Ghandi and used also by Martin Luther King Jr. could give children ideas. But really, are the Republicans that scared? Obviously, yes. The last thing they want is to have a whole new generation of children who will grow up to stand up for their rights, hold vigils and organize boycotts.
The big lesson that will turn out from this debate is that at the end of the day if they manage to ban Chavez from the textbooks, it would prove that Texas' politicians — the Perry's, Bush's, and Lowe's — are not the cowboys they think they are, but a bunch of cowards wearing hats and boots; white folks who are too scared of the brown people and what they may do.
Their approach is the same old colonialism, to assimilate the "savages," but keep them ignorant. Well, guess what? Not going to happen. In this case, Texas conservatives may take Chavez out of the classroom, but they can't take him out of the hearts of the parents who will find ways to teach their kids about him, and more importantly, teach them to stand up for justice and to do the right thing.
The UFWA has a petition to keep Chavez in the textbooks, click here to visit their site.
. By Dolores M. Bernal   Jan 10, 2010 at 1:37 am
Anyone who has watched Fox News of late has seen them talking about the April 15 "tea party" demonstrations, which they take pains to characterize as a spontaneous grassroots uprising against government spending that they are simply "covering."
We are are going to be in the middle of these protests because at Fox, we do not pick and choose these rallies and protests. We were there for the Million Man March, even though, as I pointed out, it turned out to be well shy of a million men.
The Million Man March happened in 1995. Fox News didn't go on the air until 1996.
Why all the effort to distance themselves from the teabaggers? It's obvious they are integrally involved -- Fox has given them millions in free publicity, despite the fact that there's no evidence of "ratings gold" here. Four of their biggest stars will be appearing at the rallies, Fox Nation will be hosting a "virtual tea party," Glenn Beck is holding a $500 a plate fundraiser for them and Fox has been officially promoting the entire affair as the FNC Tax Day Tea Parties:
Maybe they're afraid that if people knew that those behind the demonstrations were the very same lobbyists and influence peddlers the teabaggers claim to decry, the whole thing would be revealed to be what it is -- a hollow excercise in extremist right-wing hypocrisy.
A report by Lee Fang at Think Progress documents the involvement of corporate lobbyists FreedomWorks in organizing the teabaggers. FreedomWorks is run by ladies' man (and registered lobbyist) Dick Armey, and if they're not "organizing" the Tea parties, it's news to him. From a letter he wrote on March 10:
FreedomWorks has been organizing many of these "tea parties" and we are listing the details on our website IamWithRick.com
If you visit the website, you can rsvp for an event near you, and you can download guidelines to organizing a tea party in your home town if there isn't one being planned already.

On the Freedomworks website, it says: "If you are not able to organize or attend a Taxpayer Tea Party, you can still help the cause by donating or buying a t-shirt.
The "donation" for the Tea Parties page goes to -- you guessed it -- the FreedomWorks Foundation. The "thank you" letter is signed by Matt Kibbe, President & CEO, who cut his teeth working for Lee Atwater. He was behind the attempt to get Ralph Nader put on the ballot in Oregon in 2004, prompting a complaint to the FEC of illegal collusion with the GOP.
FreedomWorks was launched a GOP version of MoveOn. "We believe that hard work beats daddy's money," said Dick Armey at the time. Armey seems to be a bit irony challenged -- Steve Forbes is on the FreedomWorks board. As Krugman notes, their money comes from the Koch, Scaife, Bradley, Olin and other reliable funders of right wing infrastructure including Exxon Mobil.
This fact that none of this would be possible without the open checkbooks of right wing billionaires and the lobbyists who love them is beyond the grasp of Glenn Reynolds:
These aren't the usual semiprofessional protesters who attend antiwar and pro-union marches. These are people with real jobs; most have never attended a protest march before. They represent a kind of energy that our politics hasn't seen lately, and an influx of new activists.
In 2004, a woman who identified herself as a "single mother" in Iowa, Sandra Jacques, appeared at a George Bush town hall and gushed about his plan to privatize Social Security. She left out the part about being an employee of Freedomworks, who were lobbying on the issue at the time.
Before any media covering these events accept the idea that this is just a grass roots outpouring of populist sentiment, they ought to take a look behind the curtain -- where Dick Armey is laughing and counting his cash.
ByJane Hamsher
Anyone who has watched Fox News of late has seen them talking about the April 15 "tea party" demonstrations, which they take pains to characterize as a spontaneous grassroots uprising against governme...
Gillespie to chair Republican State Leadership Committee
By Alex Pappas - The Daily Caller   01/25/10 at 2:13 am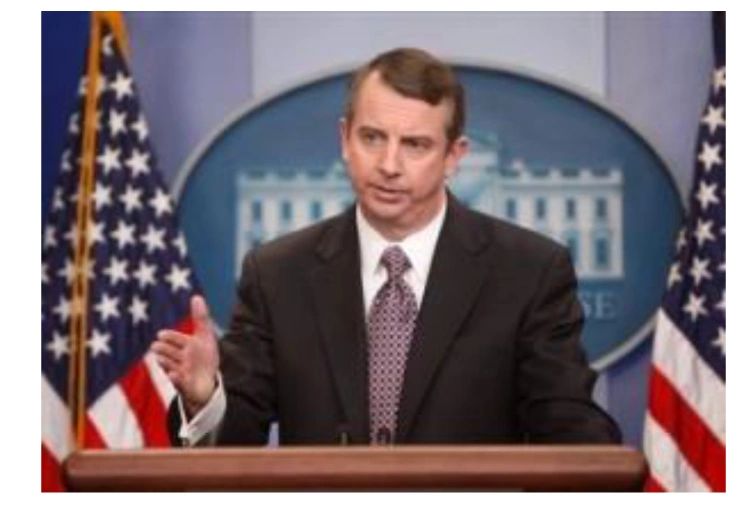 Counselor to the President Ed Gillespie briefs reporters on President George W. Bush's farewell address later tonight, Thursday, Jan. 15, 2009, during a daily briefing in the pressroom of the White House in Washington. (AP Photo/Ron Edmonds)
In a sign that Republican leaders believe their chances of success in this year's midterm elections have risen dramatically, the Republican State Leadership Committee plans to announce on Monday that Washington heavy-hitter Ed Gillespie will take the helm of the organization.
Gillespie, the former Republican National Committee chairman, told The Daily Caller that as the group's leader, he will bring a "strategic approach" to winning state races across the country that could have a "real impact on redistricting," which will happen after this year's census.
"You can really leverage a lot of seats in Congress with some smart targeting in state House and Senate races," he said.
The RSLC's mission is to elect more Republicans at the state level, especially state legislators, attorneys general, lieutenant governors and secretaries of state. The RSLC is the largest caucus of Republican state leaders in the country.
November's election will be the last time voters head to the polls before redistricting takes place. While every state has its own laws for creating congressional districts, the majority political party in each state is usually able to redistrict congressional districts to favor their party.
The math that dictates the strategy: Gillespie said 57 state legislature seats in 12 states will determine 120 seats in the U.S. House of Representatives.
Gillespie declined to name specific races that the RSLC will focus on, but said they plan to support candidates with pro-growth agendas.
"We want to do all we can to help support all those candidates," said Gillespie, who is also a former chairman of the Virginia Republican Party.
In 2010, the country will see 37 gubernatorial races, 30 attorney general races, 11 lieutenant governor races and 26 secretary of state races, he said.
Gillespie said the group will spread out the $22 million the group usually spends on state races per election cycle. He also said he would like to be able to raise enough money to be able to double that amount with his national profile and Republican contacts across the country and take the RSLC "to another level – a higher level."
Former Rep. Tom Reynolds of New York will also serve as vice chairman of the RSLC.
Gillespie served as counselor to the president during the last 18 months of the Bush administration and led the Supreme Court confirmation efforts of Chief Justice John Roberts and Associate Justice Samuel Alito. After leaving the White House, he formed Ed Gillespie
César Chávez
From Wikipedia, the free encyclopedia
Jump to: navigation, search
This article is about the civil rights activist. For the boxer, see Julio César Chávez.
César Estrada Chávez (March 31, 1927 – April 23, 1993) was a Mexican American farm worker, labor leader, and civil rights activist who, with Dolores Huerta, co-founded the National Farm Workers Association, which later became the United Farm Workers (UFW).[1] Supporters say his work led to numerous improvements for union laborers. His birthday has become César Chávez Day, a state holiday in eight US states. Many parks, cultural centers, libraries, schools, and streets have been named in his honor in cities across the United States.
Later in life, César focused on his education. The walls of his office in Keene, California (United Farm Worker headquarters) were lined with hundreds of books ranging in subject from philosophy, economics, cooperatives, and unions, to biographies of Gandhi and the Kennedys. He was a vegan.[2]
He is buried at the National Chavez Center, on the headquarters campus of the UFW, at 29700 Woodford-Tehachapi Road in the Keene community of unincorporated Kern County, California.[3] There is a portrait of him in the National Portrait Gallery in Washington, DC.[4]
Activism
Chávez was hired and trained by Fred Ross as a community organizer in 1952 for the Community Service Organization (CSO), a Latino civil rights group. Chávez urged Mexican Americans to register and vote, and he traveled throughout California and made speeches in support of workers' rights. He later became CSO's national director in 1958.[5]
Four years later, Chávez left the CSO. He co-founded the National Farm Workers Association (NFWA) with Dolores Huerta. It was later called the United Farm Workers (UFW).
Chávez speaking at a 1974 United Farm Workers rally in Delano, California
When Filipino American farm workers initiated the Delano grape strike on September 8, 1965, to protest for higher wages, Chávez eagerly supported them. Six months later, Chávez and the NFWA led a strike of California grape pickers on the historic farmworkers march from Delano to the California state capitol in Sacramento for similar goals. The UFW encouraged all Americans to boycott table grapes as a show of support. The strike lasted five years and attracted national attention. In March 1966, the US Senate Committee on Labor and Public Welfare's Subcommittee on Migratory Labor held hearings in California on the strike. During the hearings, subcommittee member Robert F. Kennedy expressed his support for the striking workers.[6]
These activities led to similar movements in Southern Texas in 1966, where the UFW supported fruit workers in Starr County, Texas, and led a march to Austin, in support of UFW farm workers' rights. In the Midwest, César Chávez's movement inspired the founding of two Midwestern independent unions: Obreros Unidos in Wisconsin in 1966, and the Farm Labor Organizing Committee (FLOC) in Ohio in 1967. Former UFW organizers would also found the Texas Farm Workers Union in 1975.
In the early 1970s, the UFW organized strikes and boycotts to protest for, and later win, higher wages for those farm workers who were working for grape and lettuce growers. The union also won passage of the California Agricultural Labor Relations Act, which gave collective bargaining rights to farm workers. During the 1980s, Chávez led a boycott to protest the use of toxic pesticides on grapes. Bumper stickers reading "NO GRAPES" and "UVAS NO"[7] (the translation in Spanish) were widespread. He again fasted to draw public attention. UFW organizers believed that a reduction in produce sales by 15% was sufficient to wipe out the profit margin of the boycotted product. These strikes and boycotts generally ended with the signing of bargaining agreements.[clarification needed]
Immigration
The UFWA during Chávez's tenure was committed to restricting immigration. César Chávez and Dolores Huerta fought the Bracero Program that existed from 1942 to 1964. Their opposition stemmed from their belief that the program undermined US workers and exploited the migrant workers. Their efforts contributed to Congress ending the Bracero Program in 1964. In 1973, the UFW was one of the first labor unions to oppose proposed employer sanctions that would have prohibited hiring undocumented immigrants. Later during the 1980s, while Chávez was still working alongside UFW president, Dolores Huerta, the cofounder of the UFW, was key in getting the amnesty provisions into the 1986 federal immigration act.[8]
On a few occasions, concerns that undocumented migrant labor would undermine UFW strike campaigns led to a number of controversial events, which the UFW describes as anti-strikebreaking events, but which have also been interpreted as being anti-immigrant. In 1969, Chávez and members of the UFW marched through the Imperial and Coachella Valleys to the border of Mexico to protest growers' use of undocumented immigrants as strikebreakers. Joining him on the march were both Reverend Ralph Abernathy and US Senator Walter Mondale.[9] In its early years, Chávez and the UFW went so far as to report undocumented immigrants who served as strikebreaking replacement workers, as well as those who refused to unionize, to the Immigration and Naturalization Service.[10][11][12][13][14]
In 1973, the United Farm Workers set up a "wet line" along the United States-Mexico border to prevent Mexican immigrants from entering the United States illegally and potentially undermining the UFW's unionization efforts.[15] During one such event in which Chávez was not involved, some UFW members, under the guidance of Chávez's cousin Manuel, physically attacked the strikebreakers, after attempts to peacefully persuade them not to cross the border failed.[16][17][18]
César Chávez Day
César Chávez's birthday, March 31, is celebrated in California as a state holiday, intended to promote service to the community in honor of Chávez's life and work. Many, but not all, state government offices, community colleges, and libraries are closed, except for K-12 schools. Texas also recognizes the day, and it is an optional holiday in Arizona and Colorado. Governor Arnold Schwarzenegger suspended observance of the holiday in 2004 and 2005 to save money during the aftermath of the power crisis.[citation needed]
Legacy
Colegio César Chávez advertisement in the 1980 Mount Angel Oktoberfest issue of the Silverton Appeal Tribune.
In 1973, college professors in Mount Angel, Oregon established the first four-year Mexican-American college in the United States. They chose César Chávez as their symbolic figurehead, naming the college Colegio Cesar Chavez. In the book Colegio Cesar Chavez, 1973-1983: A Chicano Struggle for Educational Self-Determination author Carlos Maldonado writes that Chávez visited the campus twice, joining in public demonstrations in support of the college. Though Colegio Cesar Chavez closed in 1983, it remains a recognized part of Oregon history. On its website the Oregon Historical Society writes, "Structured as a 'college-without-walls,' more than 100 students took classes in Chicano Studies, early childhood development, and adult education. Significant financial and administrative problems caused Colegio to close in 1983. Its history represents the success of a grassroots movement."[19] The Colegio has been described as having been a symbol of the Latino presence in Oregon.[20]
In 1992 Chávez was awarded the Pacem in Terris Award. It was named after a 1963 encyclical letter by Pope John XXIII that calls upon all people of good will to secure peace among all nations. Pacem in Terris is Latin for "Peace on Earth."
César Chávez died on April 23, 1993, of unspecified natural causes in a rental apartment in San Luis, Arizona. Shortly after his death, his widow, Helen Chávez, donated his black nylon union jacket to the National Museum of American History, a branch of the Smithsonian.[21]
On September 8, 1994, César Chávez was presented, posthumously, with the Presidential Medal of Freedom by President William Clinton. The award was received by his widow, Helen Chávez.
The California cities of Long Beach, Modesto, Sacramento, San Diego, Berkeley, and San Jose, California have renamed parks after him, as well as the City of Seattle, Washington. In Amarillo, Texas a bowling alley has been renamed in his memory. In Los Angeles, César E. Chávez Avenue, originally two separate streets (Macy Street west of the Los Angeles River and Brooklyn Avenue east of the river), extends from Sunset Boulevard and runs through East Los Angeles and Monterey Park. In San Francisco, César Chávez Street, originally named Army Street, is named in his memory. At San Francisco State University the student center is also named after him. The University of California, Berkeley, has a César E. Chávez Student Center, which lies across Lower Sproul Plaza from the Martin Luther King, Jr., Student Union. California State University San Marcos's Chavez Plaza includes a statue to Chávez. In 2007, The University of Texas at Austin unveiled its own César Chávez Statue[22] on campus. Fresno named an adult school, where a majority percent of students' parents or themselves are, or have been, field workers, after Chávez. In Austin, Texas, one of the central thoroughfares was changed to César Chávez Boulevard. In Ogden, Utah, a four-block section of 30th Street was renamed Cesar Chavez Street. In Oakland, there is a library named after him and his birthday, March 31, is a district holiday in remembrance of him. On July 8, 2009, the city of Portland, Oregon, changed the name of 39th Avenue to Cesar Chavez Boulevard.[23] In 2003, the United States Postal Service honored him with a postage stamp.
The National Chavez Center, Keene, California.
In 2004, the National Chavez Center was opened on the UFW national headquarters campus in Keene by the Cesar E. Chavez Foundation. It currently consists of a visitor center, memorial garden and his grave site. When it is fully completed, the 187-acre site will include a museum and conference center to explore and share Chávez's work.[3]
In 2005, a César Chávez commemorative meeting was held in San Antonio, honoring his work on behalf of immigrant farmworkers and other immigrants. Chavez High School in Houston is named in his honor, as is Cesar E. Chavez High School in Delano, California. In Davis, California; Santa Fe, New Mexico; Bakersfield, California and Madison, Wisconsin there are elementary schools named after him in his honor. In Davis, California, there is also an apartment complex named after Chávez which caters specifically to low-income residents and people with physical and mental disabilities. In Racine, Wisconsin, there is a community center named The Cesar Chavez Community Center also in his honor. In Grand Rapids, Michigan, the business loop of I-196 Highway is named "Cesar E Chavez Blvd." The (AFSC) American Friends Service Committee nominated him three times for the Nobel Peace Prize.[24]
On December 6, 2006, California Governor Arnold Schwarzenegger and First Lady Maria Shriver inducted César Chávez into the California Hall of Fame located at The California Museum for History, Women, and the Arts.[25]
César Chávez's eldest son, Fernando Chávez, and grandson, Anthony Chávez, each tour the country, speaking about his legacy.
Chávez was referenced by Stevie Wonder in the song "Black Man," from the album Songs in the Key of Life, and by Tom Morello in the song "Union Song," from the album One Man Revolution.