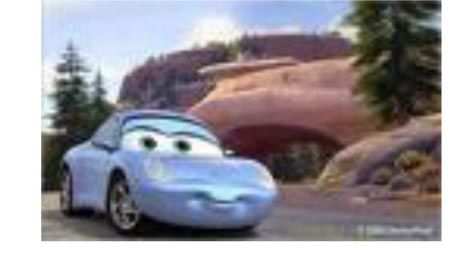 THIS IS SALLY FROM THE DISNEY MOVIE CARS….. A HYBRID OWNER MADE THE VISUAL CONNECTION.  THAT PERSON WANTS AN EV BUT ONE THAT DOES NOT SMILE AND REMINDS HER OF A TOY. 

???  WHY DO I CARE ABOUT THE SUCCESS OF THE LEAF?  READ BELOW.

NISSAN ….I WANT YOU AND THE LEAF TO SUCCEED.   THE "GOOD OLE BOYS" HAD NO DESIRE TO SEE THAT HAPPY BLUE CAR SUCCEED.   MY "THOUGHT" THAT EXPLAINS WHY NOBODY SPOKE UP IN AMERICA ABOUT THE DESIGN OF THE CAR. THE INTERNAL BATTLE OF CONTROL THAT GENERATED ALL THE DRAMA IN TENNESSEE WAS ABOUT 2 KINDS OF POWER.   "GET IT".

WHEN I REALIZED EXECUTIVES AT NISSAN NORTH AMERICA TOOK 1.6 BILLION US TAXPAYER DOLLARS FOR SOMETHING THEY DID NOT BELIEVE IN.   I TOLD MR. TAVARES.    SUCCESS IS "NOW" HAPPENING.  

NISSAN I WAS TAUGHT TO KEEP ASKING QUESTIONS.   I LEARNED TO KEEP PEELING THE LAYERS UNTIL THE ULTIMATE ANSWER IS FOUND.    WHEN I REALIZED THE "TRUE" ISSUE MY EYES POPPED.   MY WEBSITE HAS BEEN UP FOR ALMOST 8 MONTHS.   MY LIFE HAS BEEN IN LIMBO/PURGATORY WAITING FOR RESOLUTION. 

DURING THAT TIME I'VE FOLLOWED THE LEAF CLOSELY ON THE WEB AND STRATEGICALLY YOU'RE DOING EVERYTHING RIGHT.  ALTHOUGH YOU'RE MARKETING ON THIS TECHNOLOGY IS ONE BIG TRAIN WRECK.   THAT SAID.  I'VE BEEN THROUGH HELL TRYING TO MAKE MY POINT ABOUT YOUR PROBLEMS IN TENNESSEE.  THE EV ALONG WITH WOMEN AND CALIFORNIANS WERE NOT ON THE LIST TO SUCCEED AND HR MADE MY LIFE MISERABLE WHEN I ASKED QUESTIONS. SO I HAVE "DRIVE" TO MAKE IT SUCCEED.NISSAN, YOU'RE SHOOTING YOURSELF IN THE FOOT WITH YOUR LEAF "INTRODUCTION" MARKETING.   

VERY IMPORTANT EVERY ASPECT ABOUT THE FIRST MASS MARKETED ELECTRIC CAR IS IMPORTANT AND THE "ODD" DESIGN AND UNAPPEALING COLOR WILL CREATE ROADBLOCKS IN MAKING THE ELECTRIC CAR A SUCCESS WHEN YOU MASS MARKET THE CAR.

USING AN "OPEN MIND" I LOOK AT YOUR LEAF USA WEBSITE AND YOUR ZERO EMISSIONS WEBSITE AND WANT TO BUY A PRIUS.  LETS CHANGE MY MIND. 

ONE IMPORTANT ISSUE IN AMERICA COAL IS USED TO CREATE ELECTRICITY SO LETS FACE IT YOUR GREEN RHETORIC IN AMERICA IS NOT 100% and FOX NEWS AND POLITICIANS WHO DON'T WANT FUNDING FOR TAX CREDITS AND INFRASTRUCTURE ARE GOING TO ATTACK.    THINK ABOUT THIS ..BESIDES 'REGULAR" AMERICA YOU'RE ALSO MARKETING TO THE STAFF MEMBERS OF THOSE POLITICANS THAT VOTE ON NEEDED FUNDING.   STAFF MEMBERS THAT WILL ENCOURAGE YOUR TECHNOLOGY OR AGAINST THE EV.  THEY HAVE A LOT OF PEOPLE IN DC THAT LOVE TO SURF THE WEB AND LOOK AT WEBSITES.  WHAT YOU'VE OFFERED SO FAR IS LESS THAN IMPRESSIVE.    WE HAVE TO ANSWER THE QUESTIONS THAT THEY WANT ANSWERED AND EXPLAIN TO THEM WHY THEY NEED TO SUPPORT YOUR EV, AN ELECTRIC ROADMAP, INFRASTRUCTURE, TAX CREDITS.  ALL WHILE EXPLAINING TO THE AMERICAN WHY TO GO ELECTRIC.

FOR SUCCESS THIS IS WHAT "EVERYDAY" AMERICA WANTS TO SEE ON THE ZERO EMISSIONS WEBSITE.

??? YOUR MOTORSPORTS PAGE ON YOUR GLOBAL WEBSITE IS FANTASTIC WHY DON'T YOU HAVE THE TALENTED PERSON WHO DID THAT WORK ON THE LEAF WEBSITE.

TO MARKET NEW TECHNOLOGY PEOPLE WANT TO SEE THINGS PRESENTED "INTELLECTUALLY" YET EASY TO UNDERSTAND.  THINK OF A TIME MAGAZINE ARTICLE

YOU NEED TO EDUCATE PEOPLE IN A WAY THAT IS NOT CONDESCENDING.  THAT BULLETIN BOARD WITH PEGS IS VERY CLEVER YET SENDS THE WRONG MESSAGE.  THE COLORS ARE TOO FEMININE.   EVEN WOMEN DON'T WANT TO LOOK AT FEMININE COLORS WHEN THINKING ABOUT BUYING NEW TECHNOLOGY WHEN BUYING A CAR.  NISSAN YOU'RE KNOWN FOR YOUR GREAT ENGINES…USE YOU'RE "TEAM" COLORS RED AND BLACK TO SELL THE LEAF.   LET PEOPLE KNOW IT'S A NISSAN.  ADD A TOUCH OF GREEN/BLUE TO THE MARKETING TO IDENTIFY THAT IT'S ENVIRONMENTAL.    YOUR GOING TO SELL YOUR 20,000 LEAFS (PROBABLY MOSTLY IN THE BAY AREA)   THE GOAL IS A GOOD IMPRESSION (FOUNDATION) ON THE MASSES.  THAT MEANS FROM DAY ONE YOU MARKET TO EVERYDAY AMERICA.  MARKETING TOWARD THE ENVIRONMENTALIST TOUCHY FEELY CROWD WILL ONLY GET YOU SO FAR AND THEN YOU'VE CREATED YOUR OWN ROADBLOCK.    THEY WILL BUY ANYWAY.

ONE MORE THING…..YOU'RE EV ON YOUR WEBSITE IS ALSO A ZEV AND I'VE SEEN IT CALLED A BEV.  WHY DON'T YOU CHOOSE 3 OR 2 LETTERS AND STICK WITH THEM.  THE FLICKERING BATTERY REMINDS PEOPLE OF DISPOSABLE "CHEAP" BATTERIES AND THE HAND WRITTEN SIGNS LOOK LOW BUDGET.  THIS IS THE WRONG IMAGE.  AMERICA NEEDS TO KNOW THAT YOU HAVE INVESTED HEAVILY IN THIS TECHNOLOGY AND THAT It's HIGH TECH.  

I UNDERSTAND THAT IN THE LONG TERM ZERO EMISSIONS IS IN THE FUTURE.  NISSAN YOU NEED TO BE CAREFUL ON HOW YOU WORD YOUR WEBSITE.  GETTING AMERICANS TO ACCEPT ZERO EMISSIONS IS ABOUT EDUCATION AND BUILDING TRUST WITH THE CAR BUYER. 

THE CUSTOMER MIGHT NOT CHOOSE A LEAF (IF IT'S UNATTRACTIVE TO THEM) BUT MAYBE THEY'LL STILL BUY A NISSAN BECAUSE THEY APPRECIATE YOUR COMMITMENT TO PLANET EARTH…..GET IT…..THEY MIGHT OPT TO PURCHASE A FUEL EFFICIENT SENTRA, ALTIMA OR M HYBRID.     THEN MAYBE SWITCH TO AN INFINITI EV. 

 

THE GOAL IS GETTING THE CUSTOMER..

Please Select ONE...either Plan A or Plan B

Plan A......Have NISSAN Win the Sierra Club "Green Company" of the Year Award and have limited "mass appeal" in reference to the LEAF.  Creating lots of joy from Birkenstock fans and KUDO's from the environmentalist elite. 

Accepting that profits will be limited to only "good will".

or

Plan B......    Make the EV a success in America By Creating the Image that this is the "New Road" and Invite People to Shift_ the Way they Move with your "car is not a toy" high tech marketing campaign targeted to "mainstream" America. 

Generating longterm income producing profits, job creation, giving Americans the option of driving with "Independent Energy" instead of oil and helping to make the planet healthy as an "added benefit".

NISSAN Currently your on "track" for Plan A.   Luckily it's early enough to Shift_ your marketing getting rid of the "hand painted" signs and flickering battery.   Your asking People to make a financial commitment and to Shift_ the way they drive. Show America that YOUR Serious.  Just a "THOUGHT".  

Have A Great Day!!!       Sharyn
Love Cars~Love People~Love the Planet 

SEE BELOW…….SEEING THE EV IN THE COLD/SNOW MAKES A STATEMENT ABOUT THE BATTERY AND THAT IT TRULY IS A CAR FOR EVERYONE……

This was taken from YOUR global website.

August 2, 2009

Nissan's Pursuit for Zero Emission Mobility:
The Unplugged Story



……..

Li-ion on the Prairie
Today, with oil futures again uncertain and the eco-system under stress, it goes without saying that the evolution of battery technology corresponds with social need and an entrepreneurial spirit - both driving forces behind the development of Nissan EVs. The lithium-ion (Li-ion) batteries had been developed in 1990 by Sony Corporation. Just a day after Sony's official announcement, Nissan began to study the automotive application, and later in 1992 started collaboration with the company.

………  BELOW NEEDS TO BE HIGHLIGHTED ON YOUR WEBSITE…..  FYI THAT PRAIRIE IS VERY ATTRACTIVE…..IT LOOKS LIKE THE KIND OF CAR EVERY AMERICAN WOULD BE HAPPY TO OWN FOR DAILY USE.  IT'S SIMPLE AND FUNCTIONAL.

EV on Ice
One of the most unusual applications of the Prairie EV was the years it spent under extreme polar conditions as a support vehicle for the Japanese National North Pole Exploratory Team. In 2000, when the Prairie EV was undergoing cold weather testing at Nissan's Hokkaido Proving Ground, the owner of the inn where the evaluation group was staying told them that the International Arctic Research team was looking for an EV to use at their research station in Ny-Alesund, Svalbard, Norway - which at 79°N is the world's most Northerly settlement.

Nissan engineers thought it would be a great opportunity for an extended extreme cold test - which they themselves could monitor from warmer locations. It was arranged to loan the arctic researchers a Prairie EV fitted with a cylindrical Li-Ion battery. The Prairie EV, with no Nissan support or maintenance, served as the daily transportation from the base research station to the town and airport and, most importantly, while conducting meteorological observations. Zero emissions vehicles are critical for such use in order to not contaminate the research data with CO2 emissions.

"The Nissan EV became a symbol of our pledge at the International Arctic Research Village that the environment would not be damaged by the execution of research activities," recalls Dr. Hajime Ito, Chair NySMAC. "VIPs visiting our village were welcomed at the airstrip by the Prairie EV, which transported them to town without the slightest noise or exhaust gas. It was also an excellent vehicle for scientific purposes, such as the observation of wild animals, which you could approach without sound or smell."

In 2006, after six flawless years of service, the Prairie EV stopped running. Since Ny-Alesund, with a permanent population of just 35 residents, lacked a Nissan dealership, the vehicle was returned to Nissan for investigation and evaluation. When the car was examined, Nissan engineers were delighted to find that the problem was simply a disconnected condenser. Once repaired, the Prairie EV started right up (though cell performance had degenerated slightly but within projections), proving the feasibility and durability of the Li-Ion battery under extreme conditions.

Prairie EV at the Arctic Environment Research Center, Ny-Alesund, Norway
STUDY: Even with electricity from coal, electric vehicles beat gas in CO2 emissions
A common attack on electric vehicles is to claim that all Americans switching their cars from gasoline to electric would be counterproductive in the effort to reduce carbon emissions. The reason is that we'd simply need more polluting coal plants pumping out more carbon dioxide and get collapsed electric grids as a result. Well, we know there are emerging solutions to the grid problem but how about calculating the actual carbon numbers that result from gasoline vs. electricity from coal?

Dvice has gone and done just this, and found that, when it comes to CO2, electricity sourced from coal has a 60 percent lower impact than gasoline. Of course, this equation doesn't take in consideration other pollutants that result from burning either fuel.

Let's take our calculators out and check Dvice's numbers: Americans have 250 million cars. Supposing each of these cars could be fitted to a 25 kWh battery (the Tesla Roadster holds 53 kWh, the Chevy Volt will use a 16 kWh pack) and that we can drive 2 or 3 miles per kWh. Assuming that all these cars are used at current average levels (something the source doesn't exactly specify), this translates into 100 charge cycles per year. Total electricity bill: 600 billion kWh per year, and that's just 15 percent of current production (about 4 trillion kWh).

Now, onto the carbon figures: Every kWh from a coal plant produces two pounds of CO2, so we're talking 1.2 trillion pounds of CO2. The U.S. burned 3.3 billion barrels of gasoline in 2008, and a single gallon becomes 20 pounds of CO2 at the exhaust pipe, which turns out to be which about 3 trillion pounds of CO2. Ergo, coal emits 60 percent less.

[Source: Dvice]
Filed under: EV/Plug-in, USA
Is the power grid ready for electric cars?
Also: What are inflation, deflation, reflation, disinflation and stagflation? 
By John W. Schoen
Senior producer
msnbc.com
updated 11:54 a.m. CT, Mon., Jan. 19, 2009
John W. Schoen
Senior producer
---
With all the talk about a new fleet of electric cars coming down the pike, Jacob in Denver is wondering: Is the nation's power grid really ready for all these vehicles?
What will be the electric companies' response as thousands of vehicles are being plugged in and being charged? It reminds me of when corn was being harvested at extreme amounts for energy in the last couple of years and farmers could not afford to feed their livestock and everything farm- and corn-related jumped in price. Is our electricity bill going to go up even more?
— Jacob F., Denver, Colo.
Despite the breathless hype surrounding the coming wave of electric cars, the shift away from gas-powered transportation is not likely to overwhelm the nation's power grid — even given the legitimate worries that this critical infrastructure is badly in need of an overhaul. There are a couple of powerful reasons, according to industry researchers.
The first one is that widespread use of electric vehicles is still years — or decades away. President-elect Obama's energy policy, for example, targets 1 million plug-in hybrids by 2015.
Even if car makers switched their entire production runs to electric cars, it would still take many years to turn over the existing fleet of 220 million cars and trucks. The average age of cars on the road today is nine years — and rising. So the power industry has plenty of time to get ready.
Because they generate much of their power from onboard gasoline engines, plug-in hybrids aren't big consumers of electric power from the grid. You can run a plug-in hybrid with about the same amount of power it takes to keep your two, 42-inch plasma TVs fired up (with set top converters), according to the Electric Power Research Institute. Keeping up with the installation of new air conditioning units is a bigger challenge, according to an EPRI spokesman.
There's also a major difference between the supply of electric power and, say, the corn needed to make ethanol. Because large quantities of electricity can't be easily stored, power companies have to build enough capacity for the peak load on the hottest day in August. But even on those hottest days, power demand falls sharply at night. Since most electric car owners will probably charge their vehicles overnight, when power is plentiful and rates are lower, the impact on your electric bill will probably be less than the latest video game player you've got in your den.
Of course, the capacity of the nation's power grid will also have to continue grow to keep up with demand from a growing economy — once the economy gets going again. Lately, demand has been growing at about 2 percent a year — or a little less than the overall growth of the economy.
But before committing to building more coal- or nuclear-fired power plants, power companies today are looking at how they can serve the same number of customers more efficiently. Every megawatt of electricity saved (call it a "nega-watt") is just as useful as a mega-watt of new capacity. New technologies — if widely adopted — could cut the growth of electricity consumption by 22 percent over the next two decades, according to an EPRI study. Some of the cheapest fixes — like replacing incandescent light bulbs with those squiggly compact fluorescents — can provide some of the biggest savings.
That's not to say the nation's power grid isn't due for major overhaul. Unlike the technology now being engineered into the next generation of electric vehicles, large parts of the electrical distribution system operate on technology that's been around for decades. By encouraging an upgrade to a so-called "smart grid," the government could even save consumers money.
Competition among power producers, for example, was stymied in the 1990s in part because we don't really have a national power system — just a series of "interconnected" regional grids. Until you can easily shop for power from providers around the country the way you pick a long distance phone provider, you're pretty much captive to your local power company.
That smart grid could also help you save money with your plug-in hybrid, too. After tooling around town and topping off your car's batteries, you could hook them up to the gird and sell power back to your local electric company — and make your electric meter run backwards. It could be that some of the extra power we're going to need in coming decades will come from generators in millions of American garages. ….