"PTSD is something that I suffer from BUT it's made me a stronger & wiser woman and I want to help the next generation by telling Americans to treat people with PTSD with Respect"

Sharyn Bovat The

NISSAN

Whistleblower and former Cold War research worker.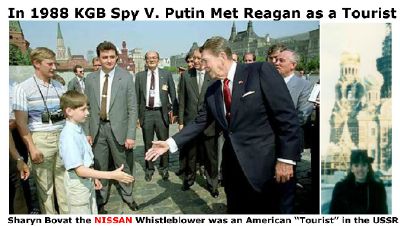 In Court a Nissan Executive Used Post Traumatic Stress Disorder to Discredit the Whistleblower.... Sharyn Bovat is Going to Fight Back and Help the Next Generation that are Protecting America http://nissanwhistleblower.blogspot.com/

Because I worked with Nissan and Renault executives who were "covering up" the fact that NISSAN did not want the EV to succeed I had flashbacks to the era of the Lockerbie "cover up."

ONLY after I was sent to jail 3 times on "trumped up charges did I speak. For over 17 years I was silent. Even while living in the Netherlands during the trial of the Lockerbie bomber. I NEVER disrespected my country. I love America. The fact is President Obama's White House is "aware" of what happened to me and they stayed silent letting the bullying continues

American women who recently have served our country in Iraq and Afghanistan the military and in intelligence will suffer emotionally "long term" and it's important that people in America know that PTSD is REAL & it's NOT something to be ashamed to have
Just recently a NISSAN executive used PTSD to discredit Sharyn Bovat a whistleblower in court. Sharyn put on her web site (a blog that she considered a form of diary) that she suffered from PTSD. In the past Sharyn Bovat traveled all over the world to help create democracies and freedom. She was a low level researcher for CIA operatives. In court when Bovat said "if you read more of my blog you'd know there was a reason WHY I said I had PTSD ... I did research for CIA operatives".... The Nissan executive did NOT deny that Bovat wrote that... he responded that he was in the Air Force.
Join Sharyn Bovat at CPAC and Let's start something that will make the lives of patriotic women better.
sharynbovat@aol.com
Hyperarousal
By Matthew Tull, PhD, About.com Guide
Updated January 26, 2009
Definition: A specific cluster of PTSD symptoms. This cluster includes symptoms that stem from experiencing high levels of anxiety, such as:
Having a difficult time falling or staying asleep.

Feeling more irritable or having outbursts of anger.

Having difficulty concentrating.

Feeling constantly "on guard" or like danger is lurking around every corner.

Being "jumpy" or easily startled.