This Man is a Buddy of Bredesen and Barbour





Viewers; This guy sent these pictures of Michelle Obama to

high level Nashville community leaders please read Speak Up for Success.





 
My name is Sharyn Bovat and I

asked Carlos Tavares of NISSAN to

help "change" the mindset
 
of  Tennessee. 


???  Sir are you listening?


HELLO!!! 



At
Nissan North America a "Good Ole Boy" network tried to scare me by having Nissans circle my home. 
Rob has his "boys" in Titan trucks harass me when I simply went to get a letter that I needed to move into an apartment.  Then Titan trucks follow me (too closely with my daughter in the car) and on numerous occasions I would be "monitored" & uncomfortably stared at while blogging about "their" bad behavior at Starbucks.  Their actions motivate me to continue.
In winter 2009 I had a death threat texted to me telling me to be silent & I told Mr. Tavares.  That message motivates me to continue
The pictures of my "3" mug shots from being detained by arrest due to "sworn out warrants" of members of a Good ole Boy network that jailed me because they wanted to scare me motivates me to continue.
The photos of the bruises I received in jail motivate me to continue.
When I got a call telling me where my body could be found I emailed that to Mr. Tavares.  That death threat motivates me to continue.

Lessons learned from my days of doing "research" prepared me for this battle of human decency and to those that mentored me when I was younger I want to say "Thank You"


NISSAN I'm "tough" because in my past people tried to intimidate me with words and at the same time they were holding items like machine guns & machetes …(They were just doing "their job").  Back then I learned to "focus on the goal".
In life Experience Matters and by training I was NOT intimidated by Rob or the FedEx man that Mr. Tavi sent delivering letters (Ones that the NISSAN Good Ole Boys NEVER followed up on for I kept "blogging" about the bad spending at NISSAN of hard earned taxpayer money)
Because of lessons learned in my "early days" I was not scared to tell Mr. Tavares of problems at NISSAN.
Today I want to know if the "higher ups in France and Japan "get it" and ask them  ???  Is change happening?
THANK YOU to those that educated & mentored me in the past. 
YOUR techniques and training continue to inspire FREEDOM.   
My message is getting to those on the other side of the wall.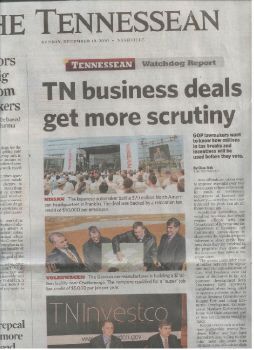 Yesterday a Tennessee taxpayer connected the dots to my issues with NISSAN and an article that was on the front page of the Tennessean.  People are slowing realizing that Tennessee has some "bad spending" issues. An article in the Tennessean today brings up a 106,000,000 federal stimulas grant that suffered from bad management by the state. Good Ole Boys gave contracts for money earmarked for "weatherpoofing" to their buddies and "some of the work paid for 'did NOT happen' along with bad record keeping.  The poor people that were supposed to have their homes winterized were taken advantage of ALONG with the American taxpayer. 
Also, a viewer asked me if I had anything to do with the Belmont College issue that accuses school leadership firing a coach for being gay protest occurred and bid donors threatened to take away donations.   Now Nashville is questioning their business partnerships with the school.  I had nothing to do with it.  My response was "it looks like those in "high society" in Tennessee might NOW be standing up for basic human rights ???  Maybe the message about Respect for ALL people has been received.
Interesting~   Mike Curb (a famous music guy and former California politician) is one of the big Belmont donors who has complained about the apparent discrimination.
Sharyn Bovat met Mr. Curb on numerous occasions YEARS ago.  One memory is at a hospitality suite in Santa Rosa that I spent a lot of time at due to the Sonoma Valley Sebastiani reserve wines being served  
Mr. Curb I could not take my eyes off your hairline.  YES!!!  Your haircut was so perfect and the lines so even it mesmerized me.
Never had a met a politician whose exterior was so "maintained".  Too bad you never helped Mr. Alexander with his "shirt" selection. J J  
Later that night in the mid eighties I remember a man saying that "to Curb image is everything".    Huh……
Mr. Curb today I thank you for standing up against discrimination at Belmont.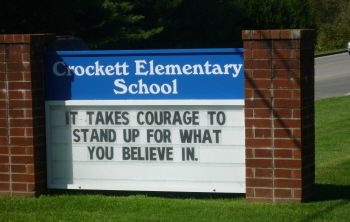 Sir, will YOU ask NISSAN "to change" ….  for just like when the last pillars of communism fell it took a whole community to insist on "making it happen". In reference to communism in the former USSR  the wall fell and democratic reconstruction happened due to the hard work of a highly intelligent multi-cultural team. A team who had "1" mission, One led by focused leaders.
 Leadership that taught ALL people about pride.  
~New Thought~
???  Why do I want to do Cultural Intelligence at NISSAN along with Diversity and CSR.   Because with "1" corporate culture one that has Respect for ALL People.   The company can succeed in being a place that could "inspire the world to change".  ???  Maybe change to a "different" type of car.   Maybe it will "spread outside of the walls of the North American HQ and "respect" will be given to ALL living in the middle Tennessee community.    ???   Who Knows…..
When I say everyone should have "The Freedom to Be the Freedom to Succeed" it comes from my heart.      
NISSAN When I go back to work and I'm able to "enjoy my life" I know that my blogging days are behind me.  For I will have to be politically correct and not spout rhetoric that might inflame people.   So until then I'm getting it ALL out.   That said;
Haley Barbour is a racist and he helped NISSAN HR in the creation of a "closed minded company".
Let's just say my Last Blasts on Barbour are what I call "unfinished business"
~FYI~For years I could never figure out WHY I toured the LA Riots and then it "clicked" that someone wanted me to see the problem of racism in America and to communicate it to other republicans.
Well I never did that until NOW!!!

Haley Barbours nephew Henry's dad is named Jeppie and he's "incharge" of the Mississippi Tea Party.  NOT all Tea Party members are racist.  Although in Mississippi MANY are.  See Tea Party Pictures on this website.


NISSAN now you know why I'm "motivated to continue" my attacks on Haley Barbour,  his nephew Henry did tell me that Adolf Hitler was his "strategic idol" and after spending weeks with him prior to the RNC convention in Houston and the "terrifying way he treated minorities at the 1992 RNC convention I could tell that he 100% had a racist heart.  Viewers please Google "Haley Barbour"  you'll see recent articles on him and allegations of racism.  WOW!!! 

Message to journalist and he Silicon Valley elite if we as a team can stop Haley Barbour from getting into the white house America will be on the road to RESPECT. 
OK….. More Tomorrow!!!
Gotta go act like an elf….    My kid gave Santa a "big" list.
Ooops I forgot this:
Mr., Curb I've been talking to a guy about creating a "green" race car driving educational program that will "inspire" the next generation.  It's "innovative" and I think Mr. Tavares will like it.  For its giving back to society in a way that emphasizes NISSAN's performance engines.  It also highlight race car driving while promoting "the new fuel for the new road" It's a CSR program that will motivate children to enjoy motorsports and still "be kind to the planet".  Mr. Curb I would LOVE it if you would like to be a partner.  When looking at your Wiki bio I see that you're the perfect type.   
Oh NISSAN "if" I get the CSR job I have 3 people I want to bring on.   One to oversee charitable spending, another to work on the "green car racing" educational concept and a person for cross cultural diversity training.    These are people that I trust and can easily work with team members that are already in place. Some "insiders" might recognize a familiar face or two....  Just thought I'd let you know.  
NISSAN Have A Great Day!!!     Sharyn
Mike Curb
From Wikipedia, the free encyclopedia
Michael Curb (born December 24, 1944, in Savannah, Georgia) is an American musician, record company executive, NASCAR and IRL race car owner. A Republican, he served as the 42nd Lieutenant Governor of California from 1979-1983 under Democratic Governor Edmund G. "Jerry" Brown, Jr. He was acting governor of California while Brown spent time outside of California pursuing presidential ambitions. He is also the founder of Curb Records, the only major country label based in Nashville that is independent.
Political career
Encouraged to enter politics in part by Ronald Reagan, Curb was elected lieutenant governor of California in 1978, defeating the incumbent Democrat, Mervyn M. Dymally. Democratic candidate Jerry Brown was re-elected governor in the same year. During much of Brown's 1979-1980 bid to become the Democratic presidential candidate, Curb served as acting governor, vetoing legislation, issuing executive orders and making appointments; actions the California's Supreme Court upheld as Curb's constitutional prerogative.[10]
Curb's personal political ambitions were set back when he lost the 1982 Republican gubernatorial nomination to California attorney general George Deukmejian. Curb sought to reclaim the office of lieutenant governor in 1986. He received the Republican nomination, but was defeated in the general election by the incumbent Democrat, Leo T. McCarthy.
No Republican has been elected lieutenant governor of California since Curb held the office. (Republican Abel Maldonado became lieutenant governor in 2010 after he was appointed by Governor Schwarzenegger and confirmed by the Democratically-controlled legislature to fill the remaining term of John Garamendi who resigned after winning a Special Election for Congress.)
Later career in music
Returning to the music industry, Curb established Curb Records. He moved to Nashville, Tennessee, in 1994, where his company records for artists such as Wynonna Judd, LeAnn Rimes, Hank Williams, Jr., Hank III, Tim McGraw, Kimberley Locke, Sawyer Brown, Rodney Atkins, Heidi Newfield and others. Curb is an equity partner in the gospel music company Word Label Group, in cooperation with Warner Music Group.
Involvement in car racing
A motorsport enthusiast, Curb is a co-owner of the CURB/Agajanian/3G Racing, a team in NASCAR's Busch Series until 2006. Curb's sponsorship and ownership have included three of NASCAR's most celebrated drivers: he previously owned Richard Petty's famed #43 in 1984 and 1985, including the 199th and 200th career wins for Petty. Curb was also a sponsor for Dale Earnhardt during his 1980 Winston Cup championship winning season, and sponsored Darrell Waltrip's #12 Toyota Tundra in the Craftsman Truck Series, driven by Joey Miller in 2006. Curb-Agajanian also run cars for many years in the Indianapolis 500 with drivers including Billy Boat and Jaques Lazier.
In November 2007, Curb purchased the remaining interest in Brewco Motorsports from Clarence Brewer of Central City, Kentucky, making him co-owner with Gary Baker. Forming Baker-Curb Motorsports competing in the NASCAR Nationwide Series in 2008 in the #27 and #37 cars. Operations have been moved to Nashville, TN.