The "Ellure"
Besides dropping its Murano CrossCabriolet at this year's LA Auto Show, Nissan has also brought the Ellure concept. Nissan says the Ellure represents Nissan's commitment to the sedan segment, but not any particular upcoming model. If anything, take this as a 4-door design exercise that's .""an ideal fit for the needs of its [potential] projected owners, women in their '30s and '40s with a sense of sophistication and rebellion"


THE SEDAN REIMAGINED. Nissan's dramatic new-value sedan exploration, the Nissan Ellure, is designed to bring a higher level of progressive and distinctive expression to the segment – adding passion and emotion to traditional sedan efficiency.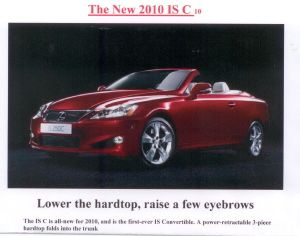 Here's the Lexus she liked... notice the lines are smooth and elegant.  The Upper Middle Class 20'sh "skirt wants leather seats, moonroof, Navigation, & a good sound systerm (remember she bought a 1 year old loaded Accord) Sounds like the college student  that took care of my child inspired something that could Ellure women back into the showrooms.  Thank You Mr. Tavares for listening!!!


This is from my website "3 Sedan Strategy"

... almost 2 months ago

Now this "skirts" view on sedans...

FYI  I told Mr. Tavares that "sedans" will be In again. 

Believing that Americans will want that "new" car feeling and will go back to buying in larger numbers, yet they'll  "downsize" after this recession.

My Theory
People that  purchased minivans will most likely swap to crossovers but the largest demographic to switch will be those from crossover back to the sedan.    

Sedan are a bit more "elegant" (if designed right) and they are fuel efficient.  Americans have a "short attention span and the Honda CRV (rogue...i HATE that name) style car will be to the American mom what the Odyssey was a few years ago. 

The BIG Shift_ is those current CRV drivers are now looking at "small luxury sedans" those with 1-2 children will want "mom faintly" amenities in their fuel efficient cars.  They want "reliability"  that offers a feeling of style.

Economically people don't have the large credit that was available to them in the past and they were "burnt" by the banks with excessive fees.  I see Americans going back to a mild version of a "cash" society that is the 2nd reason  see the Shift_ downward..  

We'll still want luxury....just in a smaller package

This is from the New York Times Today

 

The fab four The four-cylinder engine isn't just for wheezy economy cars anymore. New, more powerful fours are drawing buyers away from V6-powered cars.

By LAWRENCE ULRICH, New York Times  Last update: August 25, 2010 - 4:31 PM

As automotive earth saviors go, electric cars and hybrids are widely presumed to be the chosen ones. But as carmakers and consumers seek real, affordable gains in miles per gallon, it will be the once-humble four-cylinder combustion engine that takes them there -- far more than electrics or hybrids, which are years away from selling in numbers that would rein in the nation's greenhouse emissions and appetite for oil.

The new allure of four-cylinder engines certainly defies the odds. From the '70s through the '90s, as Japan rode small cars to world-changing success, Detroit's compacts were poor ambassadors for the four-cylinder. American economy cars like the Chevrolet Vega and Ford Escort limped along with base-level fours that were often rackety, unreliable and weak-kneed. When trucks, particularly brutish SUVs, became king of the hill in the new millennium, buyers reflexively chose a V6 or a thirsty V8.

Today, though, American buyers shifting to smaller cars and lighter crossovers are discovering downsized engines strong enough to meet their needs. So far this year, 47 percent of new vehicles have four cylinders under the hood, according to J.D. Power & Associates, a remarkable jump from 30 percent in 2005. Over that time, the market share of burly V8s has fallen to 16 percent, from 26 percent.

As for family sedans, more consumers are skipping the optional six-cylinders for fuel-efficient fours. Through July, 93 percent of Nissan Altima buyers chose the four-cylinder version, up from 85 percent in 2007, just before fuel prices soared and the car market tanked. The four-cylinder Ford Fusion, which attracted 55 percent of buyers in 2007, now accounts for more than 70 percent of sales.