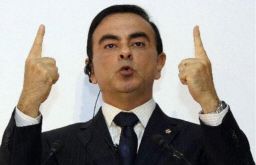 I've been told that Carlos Ghosn had "two" good reasons to move to Tennessee and lots more.
???  Why did
NISSAN
"expand" in Mississippi when they had "so many" problems.
MANY "insiders" have spoken to this skirt and
Being a whistleblower is miserable,
NISSAN
I want "my" life back.
Mr. Tavares  Time For Change
Below is from
Bloomberg....
it's a commentary from July 3rd, 2006
Nissan's Long Haul To Nashville


Is the eve of a new product line the best time for a disruptive cross-country move?

Carlos Ghosn isn't just a turnaround artist. He's also the auto industry's most brazen daredevil. Taking the wheel of Nissan Motor Co. (NSANY ) in 1999 was the definition of gutsy; the company lost $6.5 billion that year and had amassed $20 billion of debt. Yet Ghosn set targets that made the hucksterish Lee Iacocca look reserved. Within three years, Ghosn vowed, Nissan would make money and have half as much debt. After hitting those goals early, he swore to boost sales by 1 million cars, pay off all debt, and post industry-best margins. He did that, too.

Now, with Nissan's U.S. sales slumping, the Renault-Nissan boss is again pedal to the metal. Even as Nissan gears up to launch four models that Ghosn hopes will rev up sales, he has the company moving its North American headquarters from Los Angeles to suburban Nashville, where Nissan has a factory. Ghosn aims to save money and juice creativity by putting his team under one roof.

But the relocation has roiled the company. More than half of his 1,300 U.S. white-collar staffers have quit over the move -- and some were instrumental in the turnaround. Now Ghosn needs to hire hundreds of people, train them, and launch four vehicles -- all in four months. "There's never a good time for a move," Ghosn admits. "[But] if I didn't have a big challenge, then I'm not stretching the company."

Well, he's got one. After years of racking up solid sales growth in the U.S., Nissan is starting to lose momentum. U.S. sales were off 3% as of May. Meanwhile, Toyota Motor Corp. (TM ) and Honda Motor Co. (HMC ) each were up almost 9%. To whet buyers' appetites, Nissan needs new product -- both to replace aging models and enter the growing subcompact market. And that's where the quartet of new cars comes in. Starting in July, the auto maker will launch the new Versa subcompact, followed by the Sentra compact, Altima sedan, and Infiniti G35 luxury sedan.

BLOGGERS' ANGST 
As usual, Ghosn has outsize ambitions for the new models: He expects them to help Nissan rekindle the 60% sales growth of the past six years. He also says they'll be key to increasing global volume from 3.6 million vehicles now to 4.2 million in two years. He told BusinessWeek that come October, when the first of the cars will be launched, profits and sales will turn up again. As early as September, he says, the move will be but a memory.

That's a big maybe. On learning of the relocation, some staffers were so ticked off they went on Nissan's blog to accuse James C. Morton Jr., senior vice-president for finance and administration, of pushing the move to further his agenda. They said the active Republican had political aspirations that were more easily realized in red state Tennessee than on the Left Coast. Morton denies it. "I'm looking forward to getting back to the South," he says. "But I have no intention of running for public office."

Some executives simply thought the move to Tennessee was a bad idea. So the company hired Boston Consulting Group to figure out if the juice was worth the squeeze. Morton says the study affirmed both cost savings and the cross-fertilizing benefits of bringing managers of different disciplines together. But it also warned of losing staff and straying from Southern California -- ground zero for American car culture.

And there's no getting around the fact that the loss of some top U.S. executives could hurt the rollout of the four cars and, longer term, Nissan's ability to keep coming up with hot models. Sending a new car to market is something of a black art in the best of times, let alone when newbies are replacing veterans. Auto makers need to make sure they have the selection of options that consumers want. The correct mix of cars and trucks, with all their different configurations and paint colors, must be sent to regions where they're most in demand. Finally, the marketing guys need to settle on an ideal blend of national and local advertising to cut through the clutter.

John E. "Jed" Connelly, senior vice-president for sales and marketing, and his team were very good at all of that. And he's leaving. So, too, is Jack C. Collins, vice-president for product planning, who played a big role in engineering Nissan's turnaround by cranking out tasty street candy. Seven of Nissan's top nine product planners have also left. "Nissan has to recreate the organization," says Jim San Fillippo of Automotive Marketing Consultants Inc. "They lost a huge amount of talent."

Also, let's not forget that the last time Nissan tried to do so much, it stumbled. In 2003 it opened a factory in Canton, Miss., to build large pickups, SUVs, and minivans that it had never made before. Ghosn and his team swore building newly minted vehicles in a virgin plant with an upstart workforce and a new chain of suppliers was doable. But quality problems plagued the trucks and the minivan. Consumer Reports rates Nissan's large SUVs among the worst cars on the market for reliability.

It's true that Nissan has already decided what cars it will launch over the next two years. And many of the talented ex-employees left their imprimatur on them. Still, the new organization will have to pick up where the current team left off. Ghosn, naturally, professes himself undeterred. Says the Brazilian-born Frenchman: "Judge this move one, two, or five years down the road."
Soon I'll "discuss" the letter below......
Let's then Look at the Last 4 Years by putting stats and assign accountability for the deterioration of NISSAN North America.   We'll put decisions by Ghosn and Morton "under a microscope"  what America and the world will see: Poor management that was led by "Good Ole Boy" Greed.  The shareholders and the Tennessee taxpayers will want Good Ole Boy Ghosn Gone...........